DETROIT (WJBK) – The discovery of  a body leads to a dog rescue on Detroit's west side.

Multiple dogs were found living in deplorable conditions inside a house. Now there is an effort to nurse the animals back to health.
People close to the victim say some of the dogs had never been let outside, forced to live in a basement closet full of feces.
Detroit police were called to Daniel Street in Detroit after a man is found dead on the sidewalk. As investigators work to determine how he died outside, they make a disturbing discovery inside the home.
"We waited for them to clear the scene and remove the deceased," said Theresa Sumpter, Detroit Pit Crew Rescue. "Then we went inside and we saw something very horrific."
Dogs living in deplorable conditions of inside what was described as a basement prison. A closet filled with feces and trash. Theresa Sumpter, who is from the Detroit Pit Crew Dog Rescue tells us the two pit bull mixes have never seen the light of day.
"The officers pushed this door open and there was feces everywhere," she said. "And these poor dogs have been in the basement for seven months without taken outside or anything like that.
"I feel sick about it why would you put dogs in this type of position, why would you put them in a room like this to suffer."
Two other dogs – which include the mother and a pit bull pup were found outside as well.
A close friend of the family, who tells us the man died after he had an asthma attack and collapsed on the sidewalk – says he had no idea he had any pets.
"I didn't even know he had dogs," said the man. "His grandma did, but I didn't know he had dogs."
All four animals, some emaciated and scared, were taken to the Center Line Veterinary Hospital where they were cleaned up and given medical attention.
Within time, we're told the dogs will be up for adoption and hopefully find a good home they deserve.
"It can be very damaging, sometimes you will get dogs that are so scared they turn fearful and can get aggressive," Koss said. "These dogs are showing no signs of that, they are very responsive to just kindness and love."
"We hope all of these dogs go into real loving homes where they are not kept in a room seven months at a time," Sumpter said. "Where they can grow up and be part of a family."
The dogs are with Center Line Veterinary Hospital but when they are healthy enough, the Detroit Pit Crew will help with the adoption process.

The man's girlfriend was said to be the one to tell police about the dogs. When FOX 2 went to the scene she was no longer there.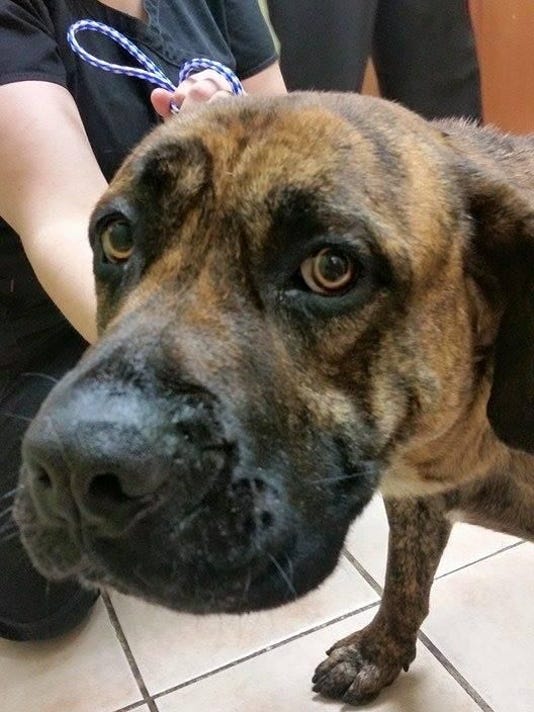 Detroit — There was so much blood, neighbors thought someone had been shot.
Residents in the 11000 block of Lansdowne on the city's east side noticed telltale red puddles Monday morning, but rain obscured a full trail until a neighbor found the source behind a vacant home and called Detroit Pit Crew, a nonprofit dog rescue.
There, cowering in a corner near a garage, founder and director Theresa Sumpter said she encountered a stomach-churning sight: an approximately 2-year-old mastiff mix with what appeared to be "guts hanging out of its rear end."
The pooch was rushed to Eastpointe Animal Hospital, where veterinarians determined someone had tried to castrate him several days earlier with a sharp object, Sumpter said.
The dog, dubbed Otis, is healing well Tuesday, according to the hospital.
"He's accepting water but still he's not accepting food," said veterinarian Dave Maini, who is overseeing Otis' care. "But he's quite active and recovering well. We'll wait until this evening (for) if he accepts food, otherwise we will have to hook him back up to the IV fluids."
Maini said Otis is expected to make a full recovery.
"The way things are going, we are expecting a good outcome," Maini said. "He's quite active and socializing with the staff. We walked him around a couple of times and he did his business, which is good."
Meanwhile, Sumpter's organization has been contacted by a Redford Township woman who believes Otis may be her dog, stolen last year. The woman, whom Sumpter did not identify, plans to bring pictures and veterinary documentation to the animal hospital Wednesday evening.
"She didn't sound certain that this was her dog, she said he looks similar," Sumpter said. "She'll have to bring proof of ownership."
The woman told rescue officials the dog used to be called King, Sumpter said.
Even if the woman is proven to be Otis' owner, the current plan remains to keep the dog in veterinary care and then a foster home until he is fully healed and ready for possible adoption, Sumpter said.
"We really have to make sure this is her dog, and then we'll have to talk about if she has a proper home for him," Sumpter said. "Somehow, he got into the wrong hands, so we're not going to endanger him again. We'll want to know what efforts she made to find him."
Now, as the dog recovers from the gruesome mutilation, Sumpter and other supporters are seeking funds to help his recuperation as well as tips to find whomever is responsible for his injuries.
"We don't really know the history or how the dog got to the condition he's in," Sumpter said Monday night.
Unfortunately, this wasn't the first time her group has been called to the area on a report of animal abuse. Volunteers were tipped to another abandoned home about a quarter-mile away where they found "multiple body parts of dogs" inside, Sumpter said.
"That's the only thing worse than this I have seen," Sumpter said.
The discovery Monday came less than a week after another dog was found hanged on Detroit's west side. The Michigan Humane Society and Detroit Dog Rescue offered a $5,000 reward for tips leading to the identification of a suspect.
"There is a major problem with animal cruelty in the city," Sumpter said. "We've had some horrific cases. I've found dogs shot, stabbed. We find dogs in all sorts of conditions."
It wasn't clear how long Otis had been left on his own after the mutilation, but he appeared to have moved to a more comfortable spot behind the home on Lansdowne, she said.
Despite his injuries, the 80-pound canine remained in "good spirits" Monday night. "As much as he's gone through, he's really friendly," Sumpter said.
Maini on Tuesday agreed.
"It's very unfortunate that the dog had to go through that," he said. "He's a gentle giant."
Sumpter's rescue group is requesting to help pay for Otis' care. More than $1,600 had been raised through early Tuesday afternoon.
She hopes the perpetrator is eventually found and others in the community are moved to stop such incidents.
"We need to speak on behalf of the animals because they can't speak for themselves," she said.