"He's your typical pittie now. He zooms around the house and jumps and plays and rolls on the lawn."
The puppy had been severely abused. At least that's what his rescuers assumed, based on his injuries.
Last August, a couple of Good Samaritans found a 7-month-old puppy lying inside a cardboard box in a neighborhood near Detroit. The pup — later named Courage — had a swollen head and looked close to death. They took the puppy to the police, who then got in touch with Detroit Pit Crew Dog Rescue (DPC), an organization that saves stray and owned dogs who are in immediate danger.
"The dog looked like a little Frankenstein," Theresa Sumpter, founder and director of DPC, told The Dodo. "He didn't even look like a dog — I truly could not believe it."
Sumpter rushed Courage to a vet to get him help. The puppy ended up having a long list of injuries: His jaw was broken, the bone under his eye was cracked.
Then there was the issue with his head — not only was it swollen, but it was infected, and Sumpter worried about permanent brain damage.
"It was forming that big balloon," Lisa Rettino, the woman who eventually adopted Courage, told The Dodo. "I know they were really hesitant about what his chances were."
While no one will ever know exactly what happened to Courage, it looked like he'd been beaten before being thrown into the cardboard box.
Rettino and her husband already had two rescue dogs, Malcolm and Gracie, but when they saw Courage's photo on DPC's Facebook page, they knew they wanted to adopt him.
"My husband said, 'We need to contact them. If this little guy pulls through, we'll take him — no matter what his special needs are,'" Rettino said. "Both of us were absolutely horrified that a sweet little puppy had gone through what he had gone through."
They got their wish. After Courage spent a couple weeks at the vet, he went into a foster-to-adopt program with Rettino and her husband.
Courage was still recovering from his injuries, and he continued to have issues with his legs, but he quickly adjusted to home life with Rettino and her husband.
"He immediately decided that I was his person, and he followed me a step behind for months," Rettino said. "If I'd stop, he'd stop and look up at me. It was like having a little duckling following me around."
Courage also hit it off with Malcolm and Gracie, Rettino's other rescue dogs.
"He connected with both of them just in the first couple of days," Rettino said. "He'd learn from them and look at them as his protectors. If he seemed uneasy about something, he'd run over to those two."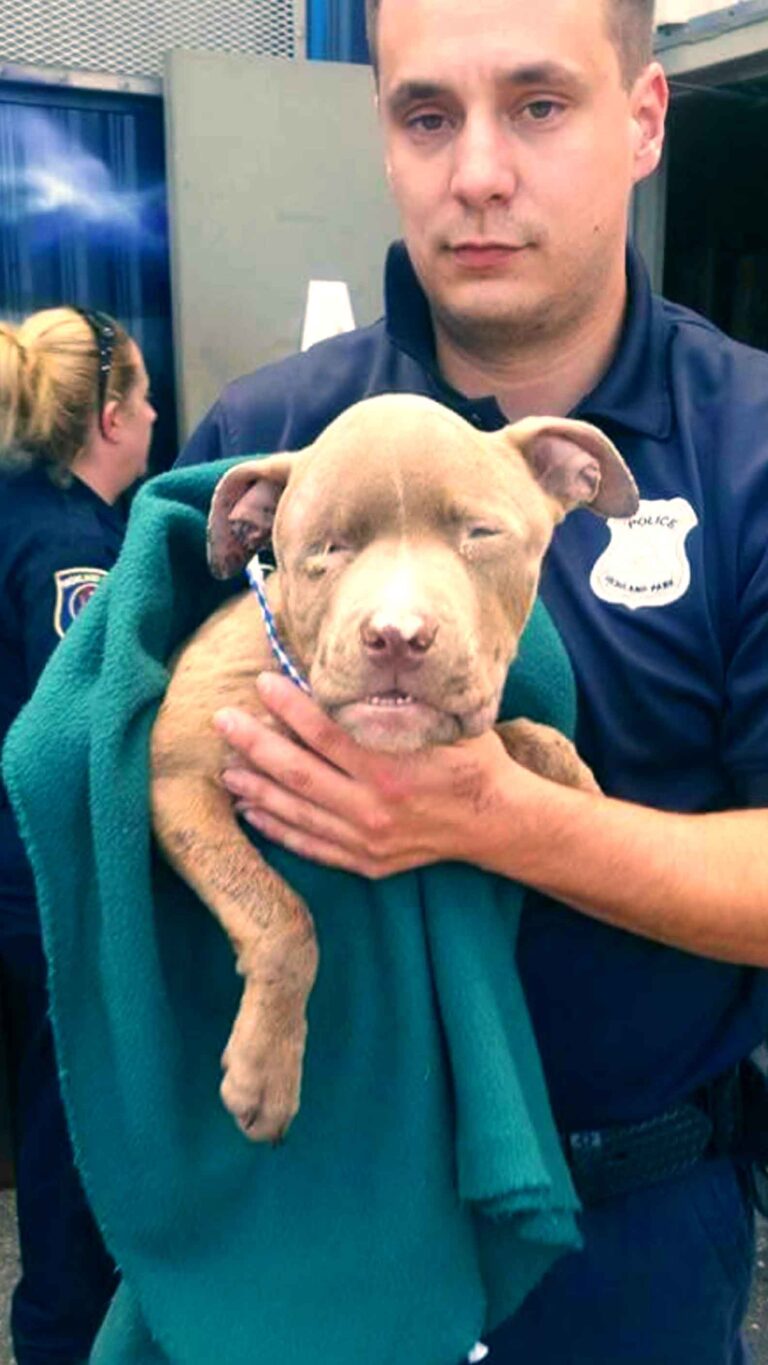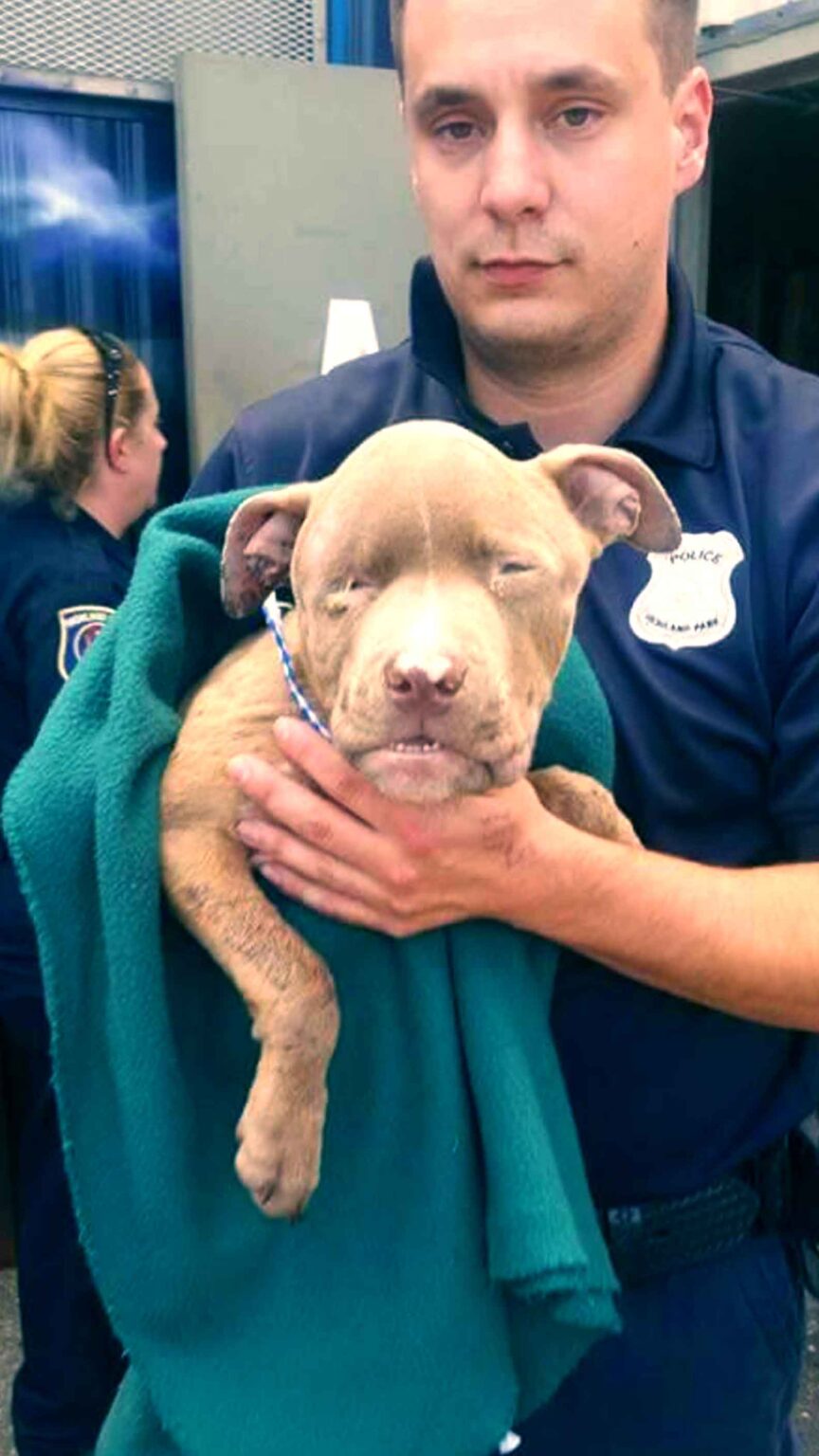 But it was Gracie who took an especially strong liking to Courage.
"Gracie decided that she's like his mom," Rettino said. "He can get away with anything with her. She'd walk, and he'd go right under her chest and literally walk underneath her and bite her paws every time she picked up her foot. She'd just keep on going and stop … and she'd lick him, and then they'd go about their merry way."
One thing Courage wasn't too sure about was how to play with toys, and Rettino had to teach him how to fetch and play tug-of-war.
"It's just been so much fun to watch him come out of his shell and learn what toys are and how to play with them," she said.
What's particularly amazing to Rettino is that Courage doesn't seem to have any residual issues based on what he went through — he's not scared of anything, and he loves every person and animal he meets. He also didn't end up having any brain damage from his severe head injury.
"He is far and away the most laid-back, loving dog ever," Rettino said. "He's the happiest dog I've ever had. He wakes up with his tail wagging, and just wants to play and be loved all day."
In January, Courage needed to go back to the vet to get his front leg amputated, but once again, he quickly recovered.